Parent Counseling Augusta GA
what can parenting coaching do for you?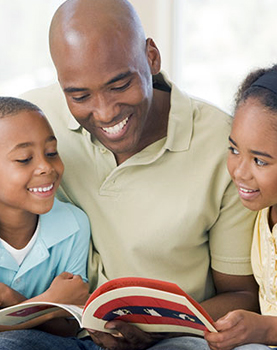 We're glad you asked! As you know, raising kids is getting more and more complicated. Theories abound, but moms and dads need strong parenting know-how to make certain they send off to college young people with emotional intelligence and intact values.
Whether you are having significant problems, need a family "tune up" or just a little encouragement, our veteran parenting experts will teach you proven and concrete methods that will improve family relationships. In private sessions you will learn what it takes in the 21st Century to anchor your family in a culture of change.
---
Cooperative Parenting in Divorce
"Georgia mandates that all divorcing parents attend a 4-hour seminar. This is not a "how to parent" class, but a opportunity to gain knowledge from experts on how your divorce may be affecting your children, how to prevent damaging loyalty binds and how to co-parent in the future with maturity and insight.
---
Private Family Management
Families often find themselves in situations where there are a multitude of problems happening to them all at once. Our unique Family Management Program is a one-on-one educational session to help parents create personalized strategies on issues such as family discord, coordinated discipline approaches, communication problems, wounded child in adult bodies work, step children concerns, divorce related problems or any other issues that stifle happy family living.
---
Awesome Parenting Kids (10-12)
This program was designed to help good parents become GREAT parents. It shows them specific, proven ways to interact with either shy kids, strong-willed kids, or kids who have ADHD. They will learn the psychology behind misbehavior and how NOT to unintentionally reinforce it; how to foster cooperation, responsibility and independence; how to avoid temper tantrums, power struggles and sibling rivalry; and how to adopt a healthy parental balance—not too strict and not too permissive.
---
Awesome Parenting Teens
This session gives parents an in-depth look at the inner workings of their kids between 12 and 18 and helps them understand why they act the way they do! It also helps parents see how their reactions determine the atmosphere of their home. Parents learn the importance of empathy and finely tuned communication techniques that will help them make it through the adolescent/teen years without unnecessary chaos. Current adolescent brain research and its implications is also addressed.
---
Strengthen Your Step Family
This is the ONE demographic that reaches out for help the least, but needs the most help! Step Family living can throw a family out of whack with dizzying speed. People skills and conflict resolution are absolute necessities for successful 2nd marriages—especially when children are added to the mix.
Our sessions gives parents specific tools to:
Overcome expectations of instant love
Create a united front
Help siblings and step siblings feel like a real family
Dealing with former spouses
Deciding who disciplines whom
Dealing with step-sibling rivalry
---
Understanding Your Children
Are your kids as different as night and day?
Do you find yourself relating to one child better than another?
Do you judge yourselves by how your children behave in public?
Have you discovered your child's inborn personality traits?
Do you "relate"?
Life Management Group
Life Coach – Counseling Augusta Georgia
Office:
4400 Columbia Road
Suite 102
Martinez, GA 30907
Phone: (706) 733-0333
Email: info@galifemanagement.com
Testimonials:
"I highly recommend LMG and advise parents not to wait until they are at their wits-end like we did. We are a happy home again. We are even getting along better and that in itself is priceless. We feel very blessed to have found you! Thank you so much!"
—Parents, Columbia County
"This was an exceptional experience for our entire family. We saw a change in our teen in the first week."
—Parents, Columbia County
"I can honestly say I look at parenting with completely different eyes now."
—Teacher /Parent, Richmond County
"I looked and looked for someone to help me with the trouble I was having with my teen sons. This program has been a Godsend!"
—Parent, Wilkes County
"This 10-week Divorce Workshop helped my ex-wife and me not only move on with our lives, but learn to communicate without fighting. It helped us put aside our differences and resentments while maintaining the focus on our kids' well-being. Under the tutelage of a neutral divorce coach, we negotiated custody, visitation and financial agreements."
—Parent, Columbia County
"Our 10-yr old daughter's Occupational Therapist recommended Life Management to help us parent our daughter who has Asperger's. We learned so much about what it is like to have special needs from our child's perspective. Thanks!
—Parents, Columbia County